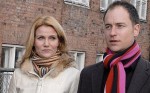 In a lengthy article in yesterday's Times (£) Janice Turner reports an interview with the Danish Prime Minister, Helle Thorning-Schmidt, who is married to Stephen Kinnock, the Welsh Windbag's son. The piece draws a comparison between the PM's life and that portrayed in the recent TV series "Borgen" - a fictional account of Danish politics.
While discussing the difficulties of being both a mother and Prime Minister, Thorning-Schmidt is quoted thus:
On being asked "Do Danish mothers feel guilty at leaving their children while they work?" she replied, "No one feels guilty because the childcare is so good. They do things with the kids that you wouldn't do that day. They go to the forest or the zoo, look at goats or sheep or whatever."
Then asked, "Is she aware how torn British women feel about working?" She replied. "Yes, I have a sister-in-law and lots of friends in the UK."
The article continues: Thorning-Schmidt's domestic arrangements are unusual. Stephen Kinnock is a Director of the World Economic Forum and lives in Davos, Switzerland during the week, coming home most weekends.
"It's not the normal way, but this is what we do and it works very well - although I do wish he was around a little more" ... "And I can always call my parents-in-law and they come over" ... "They are willing to travel across Europe if I need them - with a frozen lasagne and emergency cakes."
So does this egregious Welsh clan, with a mixture of nepotism and 'have infuence - will travel' now manage the Danish strand of the Long March? Are Gramsci's disciples now in the Christianborg Palace as well as No.10 Downing Street and The Oval Office?
A new twist on "The hand that rocks the cradle rules the world?"
Just askin'.
Postscript: http://www.telegraph.co.uk/news/worldnews/europe/denmark/8763427/Lord-Kinnocks-son-subject-of-sexuality-rumours.html